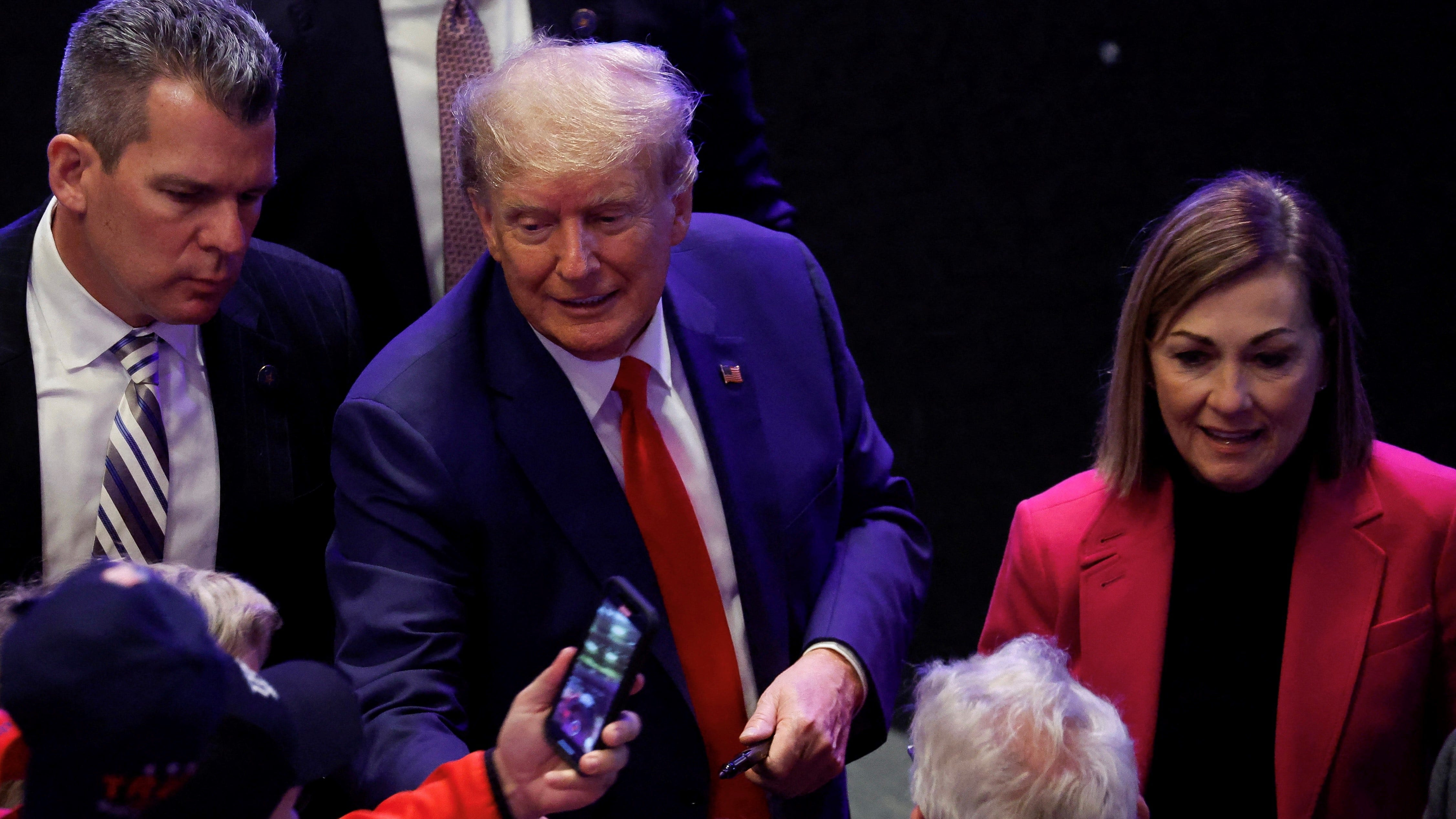 Former President Donald Trump is targeting Republican Gov. Kim Reynolds of Iowa for staying neutral in the race for the GOP presidential nomination race.
Trump, who's the commanding front-runner right now as he runs a third straight time for the White House, took to his social media site on Monday to criticize Reynolds, the popular two-term governor of the state whose caucuses for half a century have led off the GOP presidential nominating calendar.
'I opened up the Governor position for Kim Reynolds, & when she fell behind, I ENDORSED her, did big Rallies, & she won. Now, she wants to remain 'NEUTRAL.' I don't invite her to events! DeSanctus down 45 points!' the former president wrote on Truth Social.
Trump in 2017 nominated longtime Republican Iowa Gov. Terry Branstad as U.S. ambassador to China. Reynolds – who was lieutenant governor at the time – succeeded Branstad as governor. The then-president endorsed Reynolds ahead of her narrow election in 2018 to a full term in office. Reynolds was easily re-elected by 19 points last year.
Reynolds' pledge to stay neutral in the presidential nomination race is in line with previous Iowa governors. Iowa's all-Republican congressional delegation is also staying neutral as the large field of 2024 presidential contenders descends on their state.
The governor joined Trump in March in Davenport, as the former president made his first stop in Iowa as a 2024 candidate. Reynolds didn't join Trump when he returned to the state in early June and again on Friday.
Trump's comments came two days after the New York Times reported that some Trump advisers had privately complained about Reynolds' appearances with DeSantis on the campaign trail.
A source in Trump's political orbit told Fox News that campaign officials are not frustrated with Reynolds and point to Trump's overwhelming front-runner position right now in Iowa.
DeSantis trails Trump by double digits in the latest polls in Iowa and the other early voting states, as well as in the national surveys, but the Florida governor leads the rest of the field of contenders, who are in the single digits.
No comment was expected from Reynolds or her political team.
This post appeared first on FOX NEWS