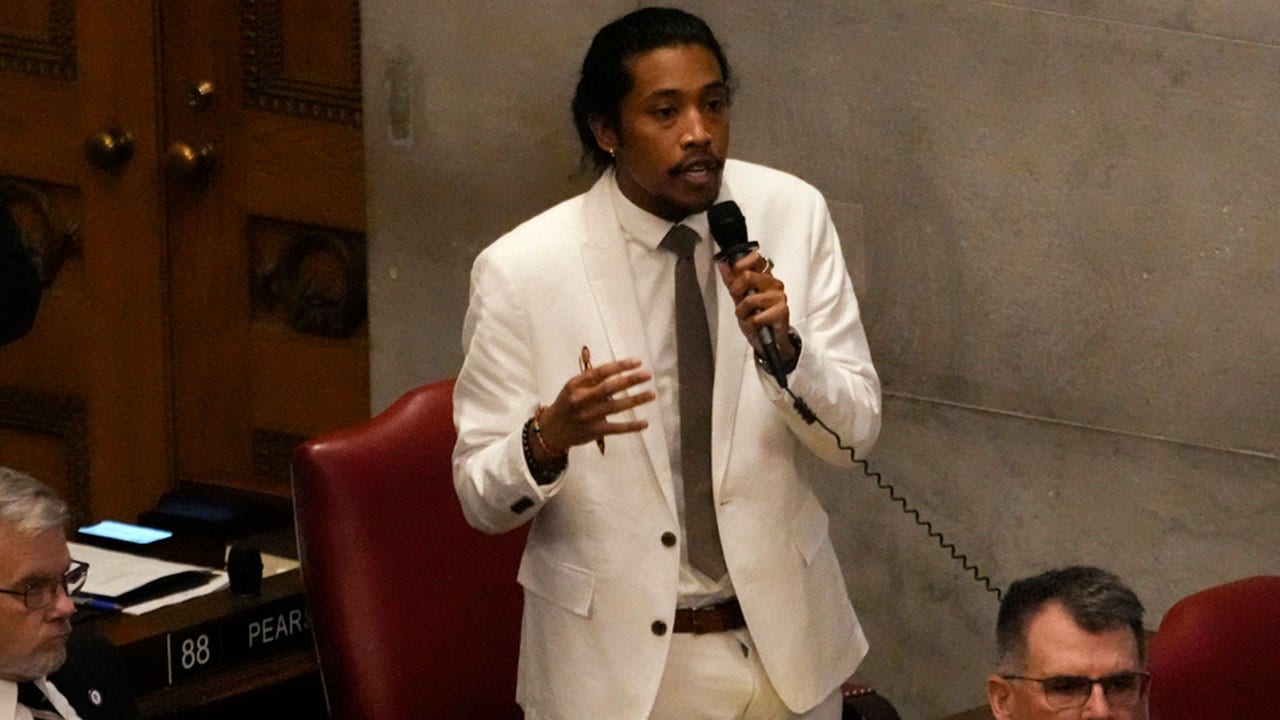 Tennessee state Rep. Justin Jones, one of two Black Democratic lawmakers expelled last week from the GOP-led statehouse, is being sent back to the Legislature. 
The Nashville Metropolitan Council voted unanimously Monday to restore Jones to office, less than a week after GOP lawmakers stripped him of his seat. 
Republicans expelled Jones and fellow Democratic lawmaker Justin Pearson over their role in a gun-control protest on the House floor in the aftermath of a deadly school shooting at a private Christian school in Nashville. Pearson could be reappointed as early as Wednesday by the Shelby County Commission.
A third Democrat, Rep. Gloria Johnson of Knoxville, was targeted for expulsion as well, but was spared by a single vote. Johnson, who is White, has suggested that race was a factor in why Jones and Pearson were ousted but not her.
Republican lawmakers justified splitting their votes by saying Johnson had less of a role in the protest — she didn't speak into a megaphone, for example.
Political tensions rose when the three joined with hundreds of demonstrators who packed the Capitol to call for the passage of gun-control measures just days after six people — including three children — were killed in a mass shooting at the Covenant School in Nashville. 
As protesters filled galleries, the lawmakers approached the front of the House chamber with a bullhorn and participated in a chant. 
GOP leaders have said the expulsions — a mechanism used only a handful of times since the Civil War — were necessary to avoid setting a precedent that lawmakers' disruptions of House proceedings through protest would be tolerated.
Jones' appointment is on an interim basis. Special elections for the seats will take place in the coming months. Jones and Pearson have said they plan to run in the special election.
Before the special council session began, a couple of hundred people gathered in front of the Nashville courthouse, and more were pouring in. Some held signs reading, 'No Justin, No Peace.' Inside the courthouse, a line of people waited outside the council chambers for the doors to open.
Republican House Speaker Cameron Sexton's spokesperson, Doug Kufner, indicated that whoever is appointed to the vacancies by the Nashville and Shelby County governments 'will be seated as representatives as the constitution requires.'
House Majority Leader William Lamberth and Republican Caucus Chairman Jeremy Faison said they would welcome back the expelled lawmakers if they are reinstated.
'Tennessee's constitution provides a pathway back for expulsion,' Lamberth and Faison said in a joint statement. 'Should any expelled member be reappointed, we will welcome them. Like everyone else, they are expected to follow the rules of the House as well as state law.'
The Associated Press contributed to this report. 
This post appeared first on FOX NEWS