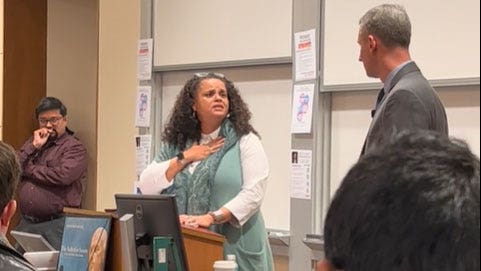 Things quickly went south during a speech by federal Judge Kyle Duncan to law students at Stanford University this week when the associate dean of diversity, equity and inclusion (DEI) slammed him to his face after hecklers interrupted his presentation.
Duncan, who was appointed by former President Donald Trump, started getting heckled by student protestors who made it impossible for him to continue his speech. 
According to video footage from the Thursday event, Dean Tirien Steinbach did nothing to stop the heckling and instead launched a minutes-long emotional speech during his presentation accusing him of causing 'harm' through his work on the U.S. Court of Appeals for the Fifth Circuit, and suggesting the school needed to reconsider its policies on free speech.
'I had to write something down because I am so uncomfortable up here. And I don't say that for sympathy, I just say that I am deeply, deeply uncomfortable,' Steinbach said, standing just feet from Duncan in the lecture hall. 'I'm uncomfortable because this event is tearing at the fabric of this community that I care about, and I'm here to support.'
'I have to ask myself … is the juice worth the squeeze? Is this worth it?' she said at the event hosted by the Stanford Federalist Society.
Duncan, appearing frustrated, suggested the event was a 'setup' before Steinbach interrupted him and continued. 
'It isn't a setup. For many people in this law school who work here, who study here and live here, your advocacy, your opinions from the bench, land as absolute disenfranchisement of their rights,' Steinbach said. 
Duncan attempted to speak again, but the room erupted with jeers and Steinbach stopped him, saying, 'Please let me finish.'
'It's uncomfortable to say this to you as a person. It's uncomfortable to say that for many people here, your work has caused harm … and I know that must be uncomfortable to hear. It must be,' she said. 'I'm also uncomfortable because many of the people in the room here I have come to care for.'
Steinbach, who previously served as the chief program officer at the ACLU of Northern California, went on to describe how her job as associate DEI dean was to create 'a space of belonging for all people in this institution,' despite not stopping some of the students' continued aggression towards Duncan.
She told Duncan that she 'wholeheartedly' welcomed him because she believed in the necessity of free speech, but also went on to suggest his speech was 'abhorrent,' 'harmful,' and 'literally denies the humanity of people.'
She added that she didn't want to censor Duncan and that she found the university's policy of free speech 'worthy of defending even at this time.' She then, however, asked again if Duncan's speech was worth it.
'And, again, I ask is the juice worth the squeeze? Is this worth the pain that this causes and the division that this causes?' she asked. 'You have something so incredibly important to say about Twitter and guns and COVID, then that is worth this impact and the division … When I say is the juice worth the squeeze, that's what I'm asking. Is this worth it?'
Steinbach went on to say she would stay for Duncan's presentation, and to hear his perspective, but that she understood that students who felt the harm by his views was 'so great' that the university 'might need to reconsider' its free speech policy.
'Luckily they're in a school where they can learn the advocacy skills to advocate for those changes,' she said.
She then thanked the protestors for 'protecting the free speech that we value here.' Before giving those who chose not to stay to listen to Duncan an opportunity to leave. 
'I look out, and I don't ask what is going on here. I look out, and I say I'm glad this is going on here,' she added before turning the event back over to Duncan as a throng of students walked out of the room.
Fox News Digital reached out to Stanford University for comment but did not immediately receive a response.
This post appeared first on FOX NEWS