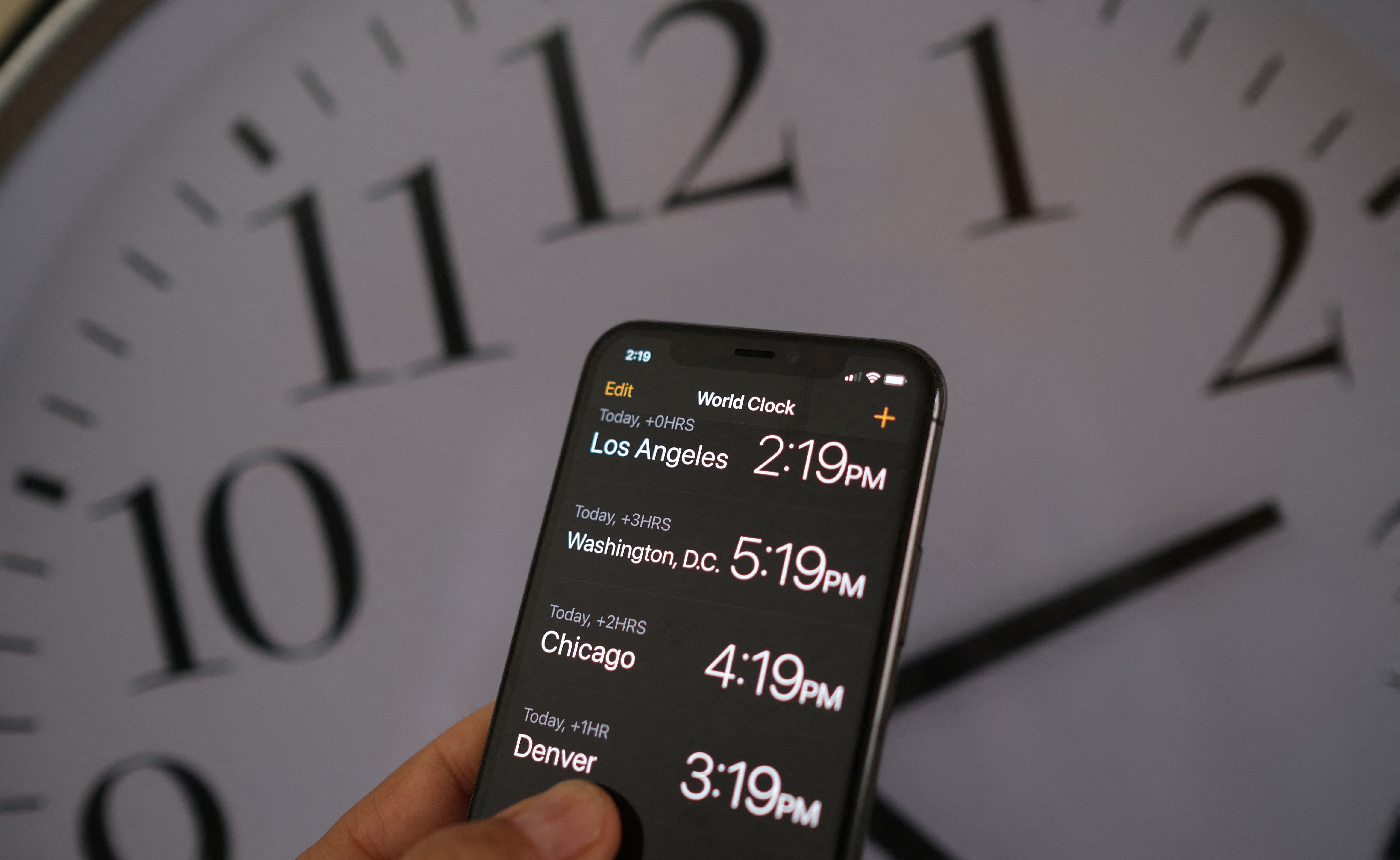 There oughta be a law….
That's what millions of Americans may proclaim when they wake up Sunday morning, cursing the fact that Daylight Saving Time embezzled an hour of sleep.
Turns out, in fact there is law.
Several in fact, mandating when Daylight Saving Time begins. When Standard Time begins.
The most prominent law was passage by Congress of the Uniform Time Act in 1966. There was adoption of a massive energy bill in 2004 which shrunk Standard Time to just four months.
And there have only been 112 successful veto overrides by Congress in the history of the U.S. One was on a piece of time legislation after World War I.
People may lament that Congress doesn't get much done. But it's an indisputable point that Congress has spent a lot of time legislating about time.
A bipartisan coalition of Democrats and Republicans hopes to do that again soon – permanently parking the U.S. on Daylight Saving Time and never reverting to Standard Time. That would eliminate the biannual 'changing of the clocks' ritual and probably make people feel better that they're not losing an hour of sleep each March.
'I would love to see Republicans be the party that stop the stupid clock change every year, twice year,' groused Rep. Thomas Massie, R-Ky.
'I think people are tired of switching clocks,' said Rep. Michael Waltz, R-Fla. 'It throws people off.'
Sen. Marco Rubio, R-Fla., is the chief advocate of legislation to eliminate the time change. Rubio and his bipartisan allies stunned the Senate in late March last year when they muscled through a bill to kill the time change.
'Yes!!!' said Sen. Kyrsten Sinema, I-Ariz., in a stage whisper as she presided from the dais over the Senate when it adopted Rubio's bill and no one objected.
Yet the plan never came up in the House.
The 117th Congress expired in early January without any more action on Rubio's bill. But just the fact that Rubio's plan advanced through the Senate indicates that the time change issue is ripening. It may not yet be an idea whose time has come. But there is more energy behind ditching the time change now than there has been in years.
Congress is in charge of time. Article I, Section 8 of the Constitution grants the House and Senate the power to 'fix weights and measures.' That's why Congress has legislated time zones and Daylight Saving Time in the past.
'States used to be all over the map prior to the passage of the Uniform Time Act of 1966,' said Steve Calandrillo, a professor at the University of Washington who has studied time policy. 'We had bunches of states and cities, some on Daylight Saving Time.
Some on Standard Time. Minneapolis was on one clock system while St. Paul was on the other.'
To some lawmakers, the time switch concept reflects legislation gone awry.
'It's something probably that people are overthinking,' said Rep. Alex Mooney, R-W.V. 'It's a perfect example of how democracy is not working. Not reflecting the majority opinion on this issue.'
Congress may have the ability to legislate what time it is. But Einstein determined that time is relative – regardless of what the clock on the wall says
.I was referred a couple of years ago to Demetrios Matsakis. He's a retried physicist who worked for decades at the Naval Observatory Master Clock in Washington, DC. 
My friend, who suggested I phone Matsakis, called him 'Dr. Time,' – which sounds like a super villain straight out of Marvel Comics. Matsakis served as the chief timekeeper of the U.S. for many years. 
The Master Clock at the observatory is the official clock for the U.S., the American military and much of the rest of the world.
'The development of clocks has paralleled the development of civilization,' said Matsakis – who incidentally doesn't wear a watch.
In essence, time is a tool, created by humans to help manage life. It tells us when to get up. It tells us when to go to school. It tells us when to harvest the crops.
'There is a satirical poem by a Roman playwright about 200 BCE, where he complains about the fact that they've installed sundials. And now it used to be a stomach told him when to eat. But now he has to look at the sun,' said Matsakis.
Time is a measurement documenting cycles of the Earth and the rest of the Solar System. Humans just use time to split life into segments.
'When I was working at the Naval Observatory, some people had a very almost religious attitude about time. And others were more lackadaisical,' said Matsakis. 'I read once that Napoleon once wanted to have a party and he planned the whole thing meticulously with military precision, and nobody had any fun.'
By the same token, Matsakis says that he sometimes tries to estimate how much time has passed in a given setting.
'Once I did an experiment and I discovered that drinking one whiskey sour slowed my perception of time down by 10 percent,' said Matsakis.
Again, time is relative. But yet time marches relentlessly forward.
Which brings us back to Capitol Hill and the debate over actually legislating what time it is.
The U.S. first went to Daylight Saving Time to conserve energy. There has always been an argument that the shift saves energy. But not everyone is convinced.
'It was thought that Daylight Savings Time and shifting back and forth, though a hassle obviously will reduce total electric usage. And I haven't seen any more recent study and obviously with all electric cars that electric usage today is different than it was a hundred years ago,' said Rep. Brad Sherman, D-Calif.
And while eliminating the time may get rid of the nuisance of switching the clocks twice a year – it's always going to be too light early in the morning part of the year somewhere and too dark in the evening someplace too.
The amount of sunlight and darkness is finite. It's just the hands on the clocks which change.
So should the U.S. be all on Daylight Saving Time or Standard Time, year round?
'There is no perfect solution,' said Matsakis. 'It's all a compromise. The compromise can depend on where you live. If you live up north, that's one thing. If you live down in Florida, that's another.'
Hence, the reason the U.S. switches the clocks twice a year. It's a legislative compromise. And that's all legislation is anyway: compromise.
Matsakis isn't so sure it's a great idea to shift the U.S. permanently to Daylight Saving Time.
'We tried going to permanent Daylight time in (the 1970s) and it was very unpopular. So we stopped doing it,' said Matsakis.
President Richard Nixon shifted the clocks ahead an hour for two years via executive order to combat the OPEC oil embargo. But then the nation resumed the usual time change rituals.
So for now, there is a law about Daylight Saving Time. And it kicks in early Sunday morning.
And if some lawmakers have their way, there oughta be another law.
But laws are a little like time: both are constructs of humankind.
The only constants are the sunlight and the darkness and what we make of it. And that's something which can't be legislated from Capitol Hill.
This post appeared first on FOX NEWS