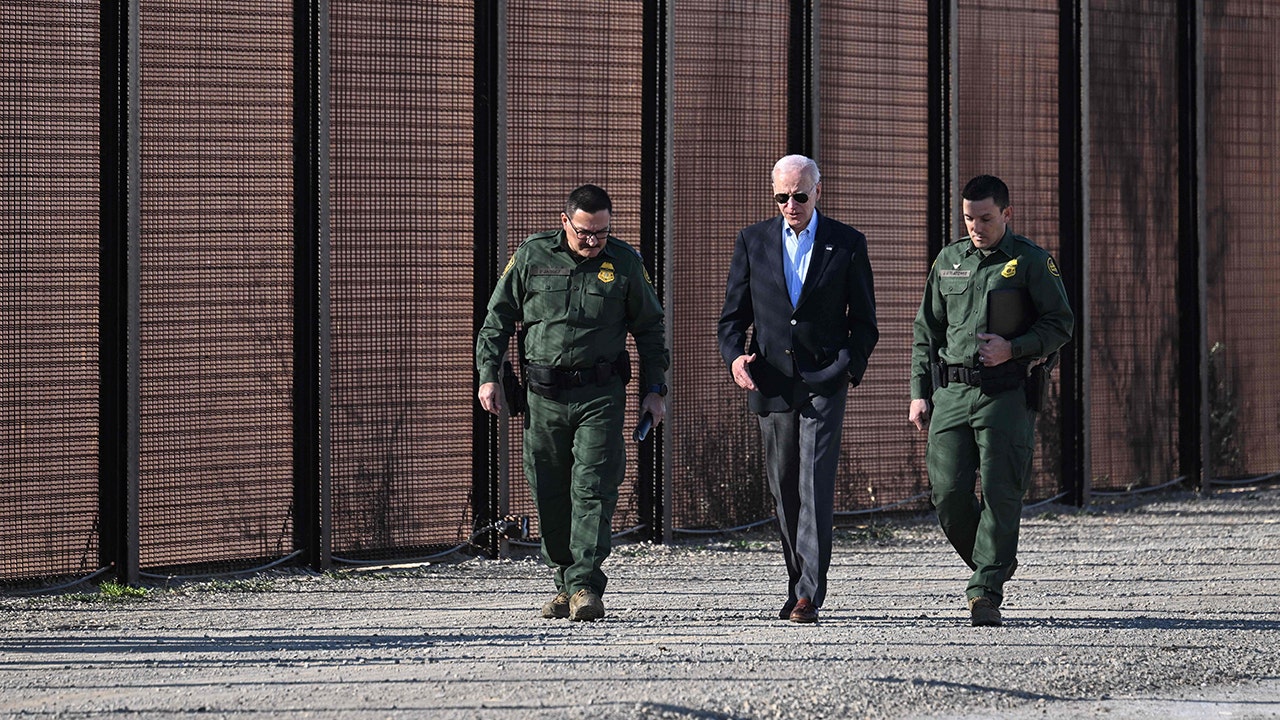 There were more than 156,000 migrant encounters in January, the Biden administration announced Friday — claiming that the numbers show that the new border measures are 'working,' despite the numbers being higher than last January.
The 156,274 encounters are slightly higher than the 154,874 encountered in January last year, and significantly higher than the 78,414 encountered in Jan 2021.
However, Customs and Border Protection (CBP) noted that the new numbers are a sharp drop from the record 251,978 encounters in December — which marked a new record at the besieged southern border. It is the first month in 10 months where encounters were below 200,000 encounters.
Officials also said that the number of migrants encountered by Border Patrol entering illegally between ports of entry (128,410) was the lowest number seen since Feb. 2021. There were 21,661 processed by CBP at ports of entry, with 9,902 having scheduled an appointment on the new CBP One application the administration has promoted. 70% of those encountered overall were single adults.
While the numbers are historically high for January, which is typically a quiet month for the border, the Biden administration has been tying the significant drop since December as proof that border measures it introduced last month are working. The cornerstone of those measures is the expansion of a humanitarian parole program for Venezuelans introduced last year to include Nicaraguans, Cubans and Haitians. The program allows 30,000 nationals in each month if they did not cross illegally, had a sponsor already in the U.S. and met other conditions.  
That was accompanied by an expansion of Title 42 expulsions to include those nationalities. The administration is also expected to introduce a rule that would make migrant ineligible for asylum if they had passed through another country without claiming asylum.
At his State of the Union address on Tuesday, Biden said the measures are working and said there had been a 97% drop in encounters of those nationalities. On Friday, CBP again attributed the drop since December to those measures.
'The January monthly operational update clearly illustrates that new border enforcement measures are working, with the lowest level of Border Patrol encounters between Ports of Entry since February of 2021,' CBP Acting Commissioner Troy Miller said in a statement. 'Those trends have continued into February, with average encounters of Cubans, Haitians, Nicaraguans, and Venezuelans plummeting.'
However, those border measures face pushback from the left, who say the expansion of Title 42 is unjust and harms migrants' right to claim asylum. Meanwhile, on the right, 20 GOP states have sued the administration over the parole program, saying it breaches congressional limits on the use of parole — which is to be used on a case-by-case basis for urgent humanitarian reasons or significant public benefit.'
Conservative critics dismissed the new numbers. RJ Hauman, head of government relations at the Federation for American Immigration Reform (FAIR), said the plan is 'one big shell game.'
'They finally realized the crisis was beginning to become a political liability, so what was their solution? Unlawful parole abuse and processing at ports of entry through an app. This is the end result — lower numbers. It's all a sham and it's illegal,' he told Fox News Digital.
Other critics have also expressed skepticism that the measures will have anything more than a short-term effect. Brandon Judd, president of the National Border Patrol Council, told Fox News Digital that cartels will likely replace migrants from those countries with other nationalities, as he said that had after the Venezuela program was introduced last year.
'So now all the cartels have to do is just go advertise services in other countries and replace the Nicaraguans, Cubans, Haitians and Venezuelans with a different population. And they always adapt. They're very good at adapting. If you do not enforce Title 42 across the board with every single country, we're never going to get out of this rut. The cartels will just adapt to our policies,' he said.
Biden himself has said the measures by themselves will not solve the ongoing surge at the southern border, and has pushed Congress to pass a sweeping immigration bill unveiled on his first day in office.
Biden used his State of the Union to not only tout the recent measures, but also to call on Congress to pass parts of that bill — includes more funding to the border as well as a pathway to citizenship for millions of illegal immigrants already in the U.S.
'America's border problems won't be fixed until Congress acts. If you won't pass my comprehensive immigration reform, at least pass my plan to provide the equipment and officers to secure the border. And a pathway to citizenship for Dreamers, those on temporary status, farm workers, and essential workers,' he said.
Republicans, who have blamed the Biden administration's policies for the ongoing crisis and called for the impeachment of Homeland Security Secretary Alejandro Mayorkas, have largely balked at the idea of an amnesty for illegal immigrants. On Tuesday they were similarly unreceptive to Biden's plea.
'Secure the border,' some lawmakers yelled at the president.
Fox News' Bill Melugin and Griff Jenkins contributed to this report.
 
This post appeared first on FOX NEWS