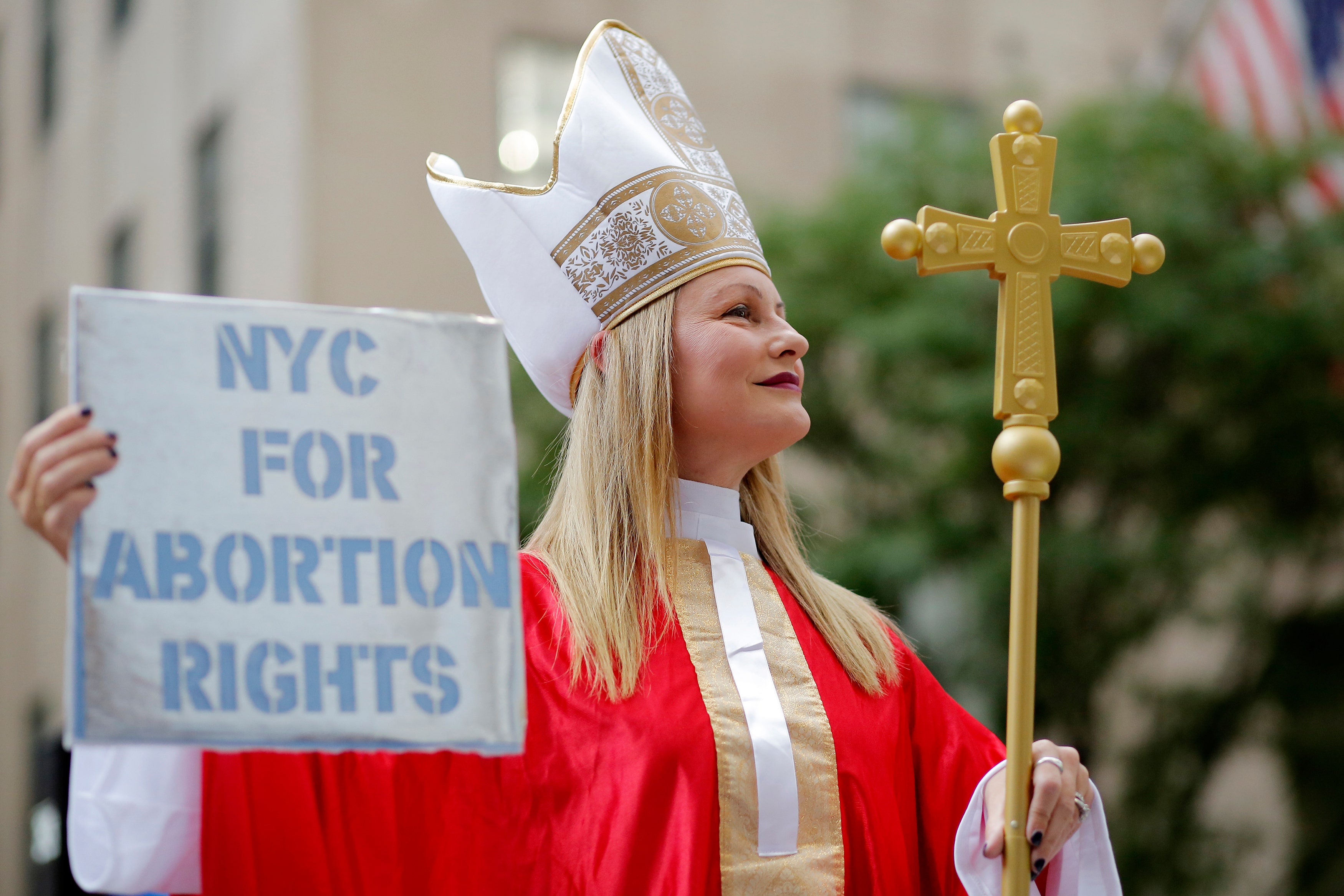 An increasing number of Catholics and Protestant support less strict abortion laws, a recent poll found. 
A Gallup poll out Friday found that 45 percent of Catholic respondents are satisfied with current abortion laws or want stricter laws, while 38 percent want less strict laws. In 2022, just 22 percent of Catholic respondents wanted less strict abortion laws. 
Meanwhile, half of Protestant respondents, 50 percent, said they are satisfied or want stricter laws, while 37 percent want less strict laws. That's up from 25 percent of Protestant respondents who said they wanted less strict abortion laws in 2022.  
It is the first time Gallup has recorded a 'plurality' of Catholics and Protestants preferring less strict abortion laws, the organization noted. 
Among those without a religious affiliation, 69 percent are dissatisfied and want less strict laws, while 18 percent are satisfied and 5 percent want more strict laws.
'Last year, the percentages of Catholics and Protestants who were dissatisfied and wanted stricter laws, or less strict laws, were roughly equal. And the largest percentage of Catholics, 28 percent, were satisfied with abortion laws,' poll authors wrote.
The news of a growing number of Catholics wanting less abortion restriction comes despite The United States Conference of Catholic Bishops (USCCB) recently sending the House of Representatives and the Senate a letter calling for the end of taxpayer funding for abortion services sharing that the organization continues to support pro-life efforts. 
'Ultimately, abortion is an uncompassionate response to a difficult pregnancy, one that pits a mother in crisis against her pre-born child.' wrote Diocese of Arlington's Bishop Michael Burbidge, head of the USCCB's Committee on Pro-Life Activities. 'Women and their pre-born children both deserve better – they deserve all of us to stand with them, and to provide solutions that empower them both to have a positive future.'
The polling results come after the overturning of Roe V. Wade in June 2022.
Gallup's poll found that a record-high, 69 percent, of U.S. adults were dissatisfied with abortion laws, with many preferring less strict laws. The poll found that 46% prefer less strict abortion, marking a 16-percentage-point jump since Jan. 2022, with 15 percent wanting more strict policies, the Gallup poll found.
In addition, 26 percent of Americans are satisfied with current abortion policies, which is slightly higher than last year's record low of 24 percent, according to the poll.
'Between 2001 and 2021, the percentage of Americans dissatisfied with U.S. abortion policies ranged from 43% (in 2002 and 2008) to 58% (in 2020).' Gallup polls stated. 'During this time, those who expressed dissatisfaction were significantly more likely to do so because they typically didn't think the laws were strict enough rather than too strict.'
Dissatisfaction with abortion laws increased in 2022, which Gallup attributed to two events in late 2021– the U.S. Supreme Court allowing a restrictive Texas abortion law to stand and when the Supreme Court heard oral arguments in the Dobbs v. Jackson Women's Health Organization case challenging the constitutionality of abortion.
Gallup polling and exit polls also suggest that abortion access played a, 'significant role in the election and was at least partially responsible for Republicans' net loss of one Senate seat and failure to gain as many House seats as they had hoped.'
This post appeared first on FOX NEWS