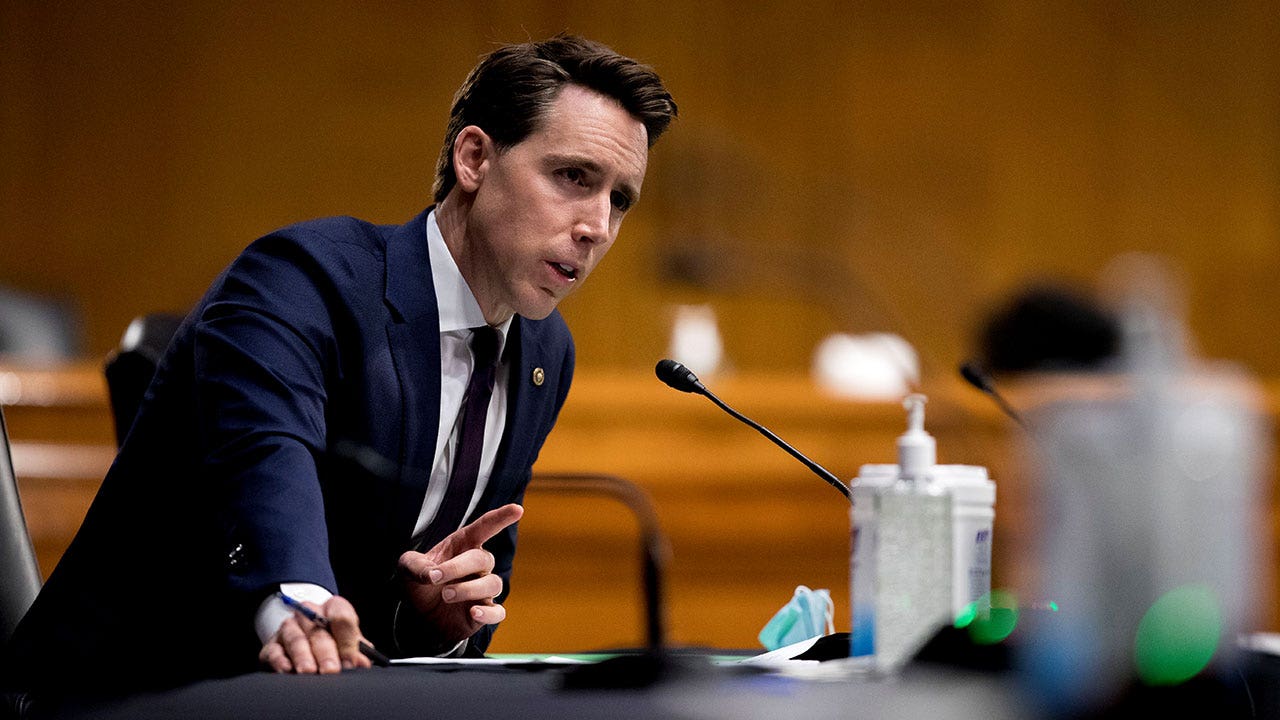 FIRST ON FOX: Missouri Republican Senator Josh Hawley sent a letter to Attorney General Merrick Garland demanding answers to his 'disparate treatment' of President Biden's classified document trove compared to his predecessor's and pressuring him to appoint a special counsel.
Fox News Digital exclusively obtained Hawley's letter to Garland regarding the classified documents found at the Penn Biden Center think tank in Washington, D.C., where Biden worked from 2017 to 2020.
Hawley torched the attorney general in the letter, pointing out how the Federal Bureau of Investigation (FBI) raided former President Trump when similar documents were found at this Mar-a-Lago estate, but there were no actions taken at Biden's think tank.
'In August of last year, FBI agents raided the Mar-a-Lago residence of former President Donald Trump, supposedly to secure classified documents dating back to President Trump's time in office,' Hawley wrote. 'President Biden appears to have done exactly what President Trump did—only he didn't get his home raided by the FBI over it.'
'The double standard here is astounding. The underlying behavior at issue—a President's retention of old classified documents dating back to a past presidency—is materially the same in both cases,' the senator continued. 'But in President Trump's case, that retention triggered an unprecedented raid on the home of a former president, rationalized with a thicket of partisan doublespeak.'
'President Biden has not experienced anything remotely similar,' he added.
Hawley wrote that to 'make matters worse,' it took months for the news of the documents to surface after they were discovered on November 2, 2022 — days before 'a hotly contested midterm election.'
The Missouri Republican accused the Biden administration 'and its allies in the media' of doing 'their best to bury the story.' He also wrote that the Justice Department's (DOJ) 'disparate treatment' of the two cases under Garland 'thus far isn't especially surprising, because today's FBI leadership is growing more partisan by the day.'
'We know from an Inspector General report that the FBI fabricated evidence to justify spying on President Trump's campaign in 2016. Now the FBI is once again up to the same tricks, putting its thumb on the scales to punish the Democratic Party's political opponents,' Hawley said. 'We shouldn't forget, after all, that you also unleashed the FBI on parents who challenged critical race theory at school board meetings in the fall of 2021. Evidence of the Department's internal rot is piling up everywhere.'
Hawley noted that, during Garland's confirmation hearings, he assured the senator and his colleagues that he 'would take the high road' if confirmed as attorney general, but under his 'watch, the Department's conduct has clearly failed to live up to this standard.'
The senator also doled out several questions to Garland, demanding 'full responses' to questions including a 'full explanation' as to why the FBI wasn't mobilized and at 'what point' he was 'notified that these documents exist.'
The DOJ did not immediately respond to Fox News Digital's request for comment.
Hawley's letter comes as several Biden administration officials have been found to been employed by the Penn Biden Center while the classified documents were hidden away there.
The Washington, D.C.-based Penn Biden Center — a foreign policy think tank President Biden opened in 2018 — previously employed current Secretary of State Antony Blinken, Under Secretary of Defense for Policy Colin Kahl and White House counselor Steven Richetti. Blinken and Richetti both served as managing directors while Kahl was a strategic consultant at the center.
In addition, Spencer Boyer, the deputy assistant secretary of defense for Europe and NATO policy, was a senior fellow; Jeffrey Prescott, the deputy to the U.S. ambassador to the United Nations, was a strategic consultant; Ariana Berengaut, a senior adviser to the national security adviser, was a director; Michael Carpenter, the U.S. representative to the organization for security and cooperation in Europe, was a managing director; Juan Gonzalez, a special assistant to the president, was a senior fellow; and Carlyn Reichel, a special assistant to Biden and senior director for speech writing and strategic initiatives, was the director of communications at the Penn Biden Center.
Brian McKeon was a senior director at the think tank and was the deputy secretary of state for management and resources until last month.
Fox News Digital's Thomas Catenacci and Cameron Cawthorne contributed reporting.
This post appeared first on FOX NEWS