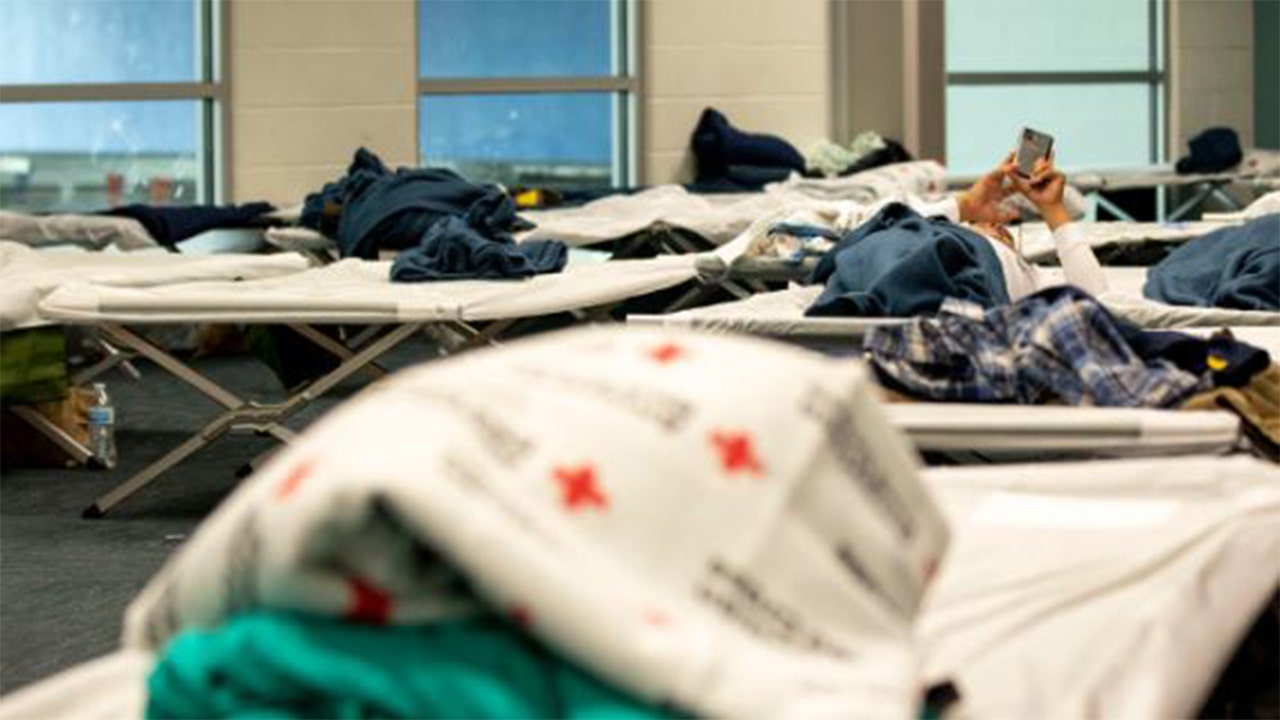 The city of Denver announced this week that it is limiting the stays of arriving migrants in their shelters for two weeks, as the city says it is trying to regain the use of the recreation centers that have been converted into emergency housing amid a surge in migrants to the city.
In an announcement on Monday, the city said it has been telling migrants that their stay in shelters is 'to last no more than two weeks' as it seeks to maintain 'sustainable, safe and stable operations while continuing to bring our recreation centers back online for the Denver community.'
This is happening as the city says that the number of people staying in the emergency shelters has 'leveled off' as a result of a decrease in arrivals and as more migrants are leaving them. Authorities said that there are currently 560 migrants in the city's emergency shelters and so far it has aided over 4,000 migrants since the beginning of December.
Denver is the latest non-border city to be overwhelmed with migrants as a knock-on effect of the ongoing crisis at the border, which has seen hundreds of thousands of migrant encounters each month — with many being released into the interior of the U.S.
The move comes days after Colorado Gov. Jared Polis announced that there would be no more buses to New York City and Chicago, after the Democratic mayors of those cities sent a scolding letter to Polis in which they urged him to stop sending migrants to their 'sanctuary' cities.
'These actions do not live up to the values of a proclaimed welcoming state and should stop immediately,' Mayors Eric Adams and Lori Lightfoot wrote.
Polis' office had defended the buses, saying that about 70% of migrants arriving in Denver do not have Colorado as a final destination. As a result, the state said it was working with non-profits to 'provide intake, processing, and transportation coordination to help migrants safely reach their desired final destination.'
'People fleeing violence and oppression in search of a better life for themselves and their families deserve our respect not political games and we are grateful we have been able to assist migrants to reach their final destination,' Polis said in a statement. 'We refuse to keep people against their will if they desire to travel elsewhere. While the federal government and Congress, unfortunately, have failed the American people on immigration reform and border security, Colorado continues to assure culturally competent and humane support to help assist migrants escaping oppression.'
However, in the statement on Saturday, Polis's office said he had a 'very productive' conversation with Adams and Lightfoot and that there would be no more buses scheduled to their cities.
'Now that nationwide travel has returned to the status quo because the holidays and the impact of weather have normalized transportation pathways,  Colorado has been in the process of scaling back this transportation,' the statement said.
The controversy comes as the migrant crisis is back in the headlines amid President Biden's visit to the besieged border on Sunday — where the president stopped briefly to tour the border and meet with local officials.
Biden has called on Congress to pass a sweeping immigration bill that he says will end the crisis — a bill that includes a fast-track path to citizenship for millions of illegal immigrants. In the meantime, he has announced new border measures, including an expanded humanitarian parole program and greater expulsions under the Title 42 public health order.
This post appeared first on FOX NEWS