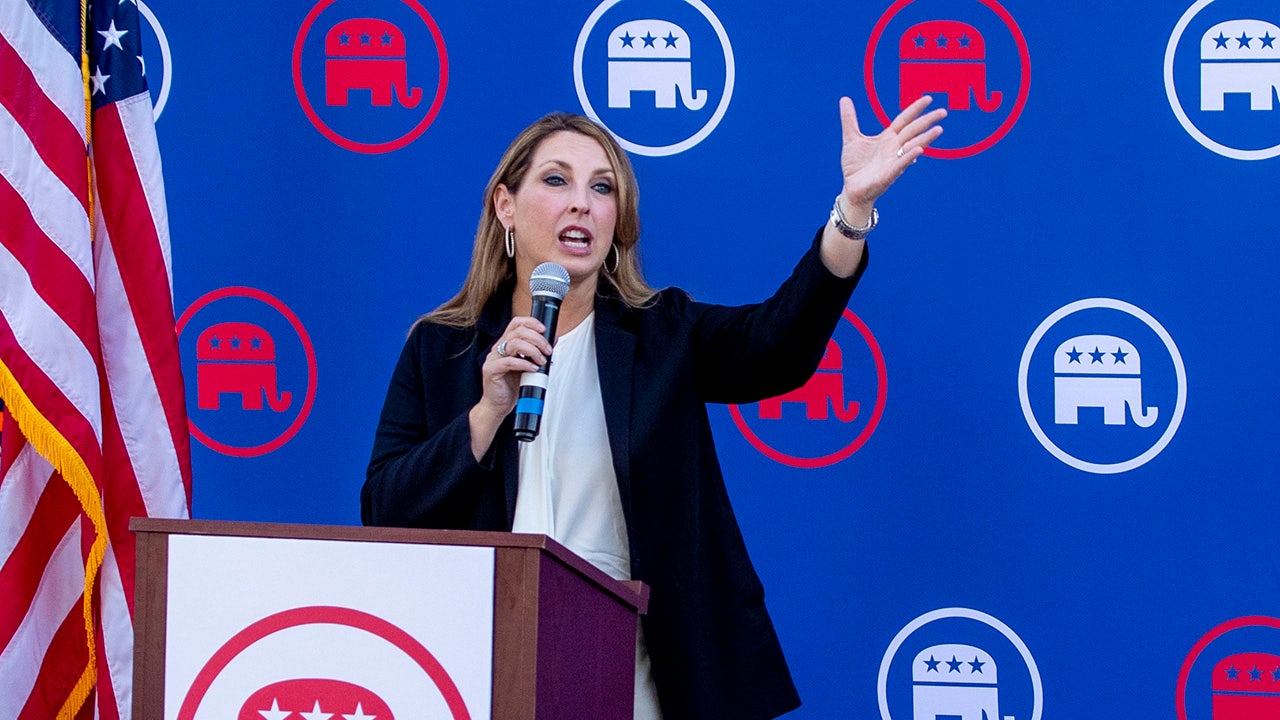 The candidates running to lead the Republican National Committee (RNC) will square off later this month in a forum just ahead of a crucial vote by the national party committee members to decide their next chair.
The forum will likely be the final act in an RNC chair election that's turned into a contentious family feud as the GOP decides its leadership while the party jumps into an election cycle in which it aims to win back the White House, regain the Senate majority, and hold its fragile control of the House.
That forum will take place on Jan. 25-26, as the RNC this year holds its annual winter meeting in Dana Point, California, according to an email on the RNC chair election sent Tuesday to members by the national party's counsel. The secret ballot vote for chair by the 168 RNC committee members will come the next day, on Jan. 27.
Current chair Ronna McDaniel is running for a fourth two-year term steering the RNC, which is unprecedented in modern times. She's being challenged by Harmeet Dhillon, an attorney who is also an RNC committee member from California and who served as a legal adviser on former President Donald Trump's re-election campaign. Dhillon announced her bid for RNC chair on the Fox News Channel last month.
MyPillow CEO Mike Lindell, who's a strong supporter of Trump's unproven claims the 2020 presidential election was rigged and stolen, has also said he's challenging McDaniel.
The candidate forums for contested leadership races will be open only to RNC committee members, their proxies or representatives, and will be closed to press or the public, according to the email. The candidates will be able to 'give a speech, take questions, or both,' during the forums, according to the email, which was first reported by Politico and confirmed by Fox News.
The RNC has held forums in the past for contested races, most recently two years ago for the offices of co-chair and treasurer. But this cycle is witnessing the first hotly contested RNC chair race in a dozen years, as the party aims to rebound from a disappointing showing in November's midterm elections, and as it debates the future of the party and Trump's continued influence over the GOP.
McDaniel said in an interview last month that she would take part in a forum open only to RNC committee members who can vote in the chair election.
'Ronna McDaniel looks forward to participating in the candidate forum at winter meeting to continue her conversations with members of the 168, our party's grassroots leaders who are eager to unite together to compete and win in 2023 and 2024,' McDaniel re-election spokesperson Emma Vaughn told Fox News in a statement.
McDaniel, who as Michigan GOP chair was Trump's handpicked choice to steer the committee after he won the White House in 2016, was re-elected to the post in 2019 and 2021. She has been a prolific fundraiser for the national party during her tenure steering the committee.
But the GOP electoral setbacks in November, as well as in 2018, when the party lost its House majority, and in 2020 when it lost control of the Senate and the White House, all came on McDaniel's watch, which sparked calls for a change of leadership.
McDaniel, in an interview last month with Fox News Digital, described her support as 'pretty solid,' touting an endorsement from over 100 RNC committee members – which would far exceed the simple majority of the 168 members needed to win re-election.
But Dhillon has repeatedly questioned the firmness of McDaniel's advertised support, and she's emphasized in numerous interviews that she wants to take the party in a 'fresh direction.'
Dhillon's called for a public debate rather than a forum only open to RNC committee members. A Dhillon spokesperson said she would participate in the forum but having it closed to the public 'sends a very bad signal to RNC donors and grassroots leaders that the current chair is too weak or afraid to debate her own record.'
Lindell told Politico that he plans to participate in the upcoming forum.
This post appeared first on FOX NEWS