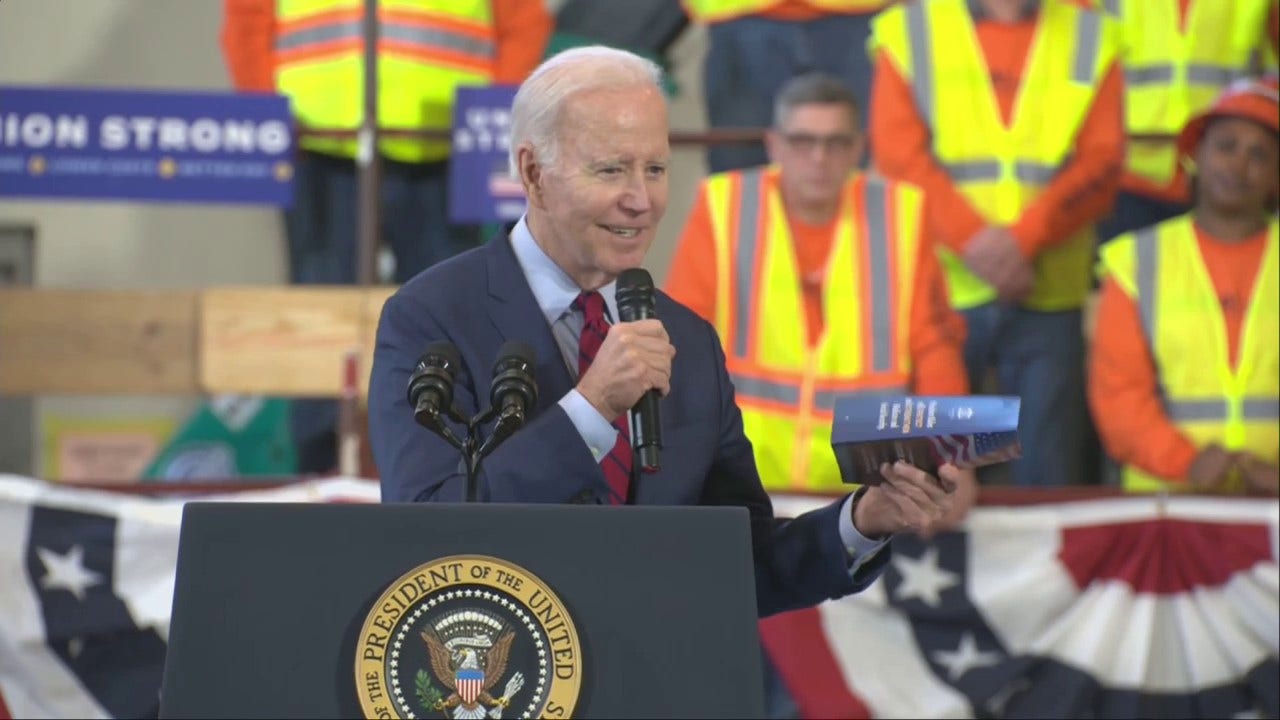 Sen. Ron Johnson of Wisconsin is calling President Biden a liar after being repeatedly characterized as a Republican seeking to end key entitlement programs.
During his Wednesday speech in Madison, Wisconsin, Biden acknowledged the 'spirited debate' he had with House Republicans during the State of the Union address Tuesday night  — when Rep. Marjorie Taylor Greene, R-Ga., and others booed and shouted that he was a 'liar' for claiming Republicans want to cut Social Security and Medicare entitlements.
Refusing to back down at the Wisconsin rally, the president pulled out a brochure with the 12-point plan to 'Rescue America' put forward by Sen. Rick Scott, R-Fla., which Biden and Democrats have asserted lays out a proposal that would cause Social Security and Medicare programs to end without Congressional action.
The president then read a placard with a 2022 quote from Johnson, in which the Republican lawmaker called for Social Security and Medicare entitlements to be transitioned from mandatory to discretionary spending, which would require Congress to budget for those programs annually. 
Biden's accusation was in reference to August 2022, when Johnson suggested that Social Security and Medicare should no longer exist as federal entitlement programs. Johnson specified that he believed the programs should instead be approved annually as discretionary spending. 
'If you qualify for the entitlement, you just get it no matter what the cost,' Johnson said at the time. 'And our problem in this country is that more than 70% of our federal budget, of our federal spending, is all mandatory spending. It's on automatic pilot. It never, you just don't do proper oversight. You don't get in there and fix the programs going bankrupt.'
In an interview after the comment, Johnson denied wanting to end Social Security or Medicare.
Johnson told Fox Digital in an exclusive statement on Wednesday, 'President Biden is lying about me. He lied last night, and he lied again today. I never suggested putting Medicare & Social Security on the chopping block. In fact, it was Joe Biden himself who suggested freezing these programs.'
Johnson's comment was in reference to proposed legislation from 1975 while Biden was in the upper chamber of Congress — the now-president put forward a bill requiring all federal programs to sunset after four years.
When pushing his bill as a senator, Biden said 'it requires every program to be looked at freshly at least once every four years.'
Johnson stood by his past comments and reiterated his belief that Social Security and Medicare are financially unstable.
'I want to save these programs. I have simply pointed out the greatest threat to these programs is out of control debt and deficits. We need a process to prioritize spending and decease our deficits,' Johnson concluded.
Fox News' Houston Keene and Chris Pandolfo contributed to this report.
This post appeared first on FOX NEWS