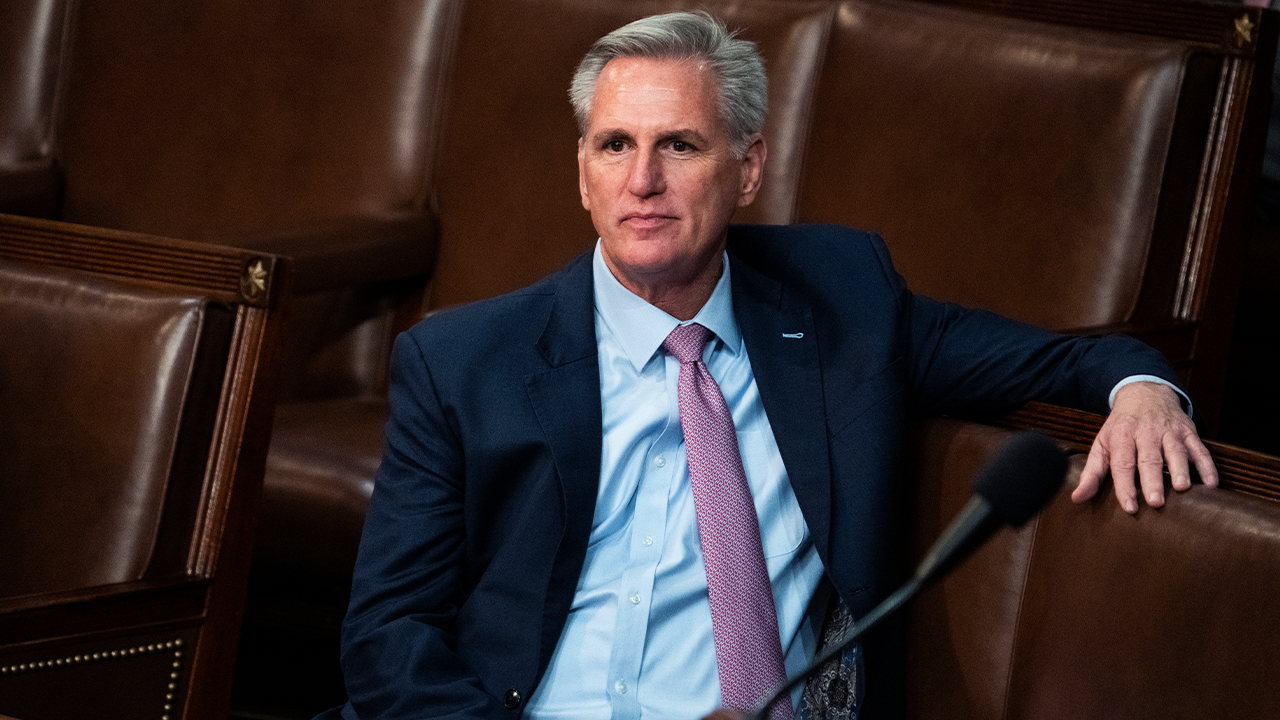 Republicans are feuding behind the scenes over whether cuts to defense spending are necessary for the new 118th Congress under the leadership of House Speaker Kevin McCarthy.
During an interview with 'Fox News Sunday,' Rep. Jim Jordan, R-Ohio said that 'everything' has to be on the table in order to cut government spending, including the Defense Department.
'We got a $32 trillion debt. Everything has to be on the table,' Jordan said, adding that the U.S. is 'on pace to spend $500 billion or $600 billion just to pay interest on the debt.'
Jordan said Congress can make cuts by re-prioritizing where money is spent within the military and carefully looking at the money sent for Ukraine aid.
However, Rep. Chip Roy, R-Texas, said Sunday that cuts to defense spending levels 'were never discussed' during GOP negotiations with McCarthy, R-Calif., over the speakership and said the claim that Republicans are looking to cut the Pentagon is 'a lie.'
Roy was one of the most vocal members of the House Freedom Caucus originally opposed to McCarthy becoming speaker, until a deal was struck on how Republicans would run the House. Part of the reported deal between McCarthy and the GOP defectors was that spending for fiscal year (FY) 2024 would be capped at the FY 2022 levels for the next 10 years.
That led to worries that a cut as much as $75 billion could be coming for the Defense Department. However, Roy said Republicans are looking for an 'overall' cut to 2022 levels that would leave the Pentagon untouched.
'In fact, there was broad agreement spending cuts should focus on NON-DEFENSE discretionary spending,' Roy said in a Twitter thread Sunday. 'This means cutting funding for the woke & weaponized bureaucrats that received massive increases under the $1.7 trillion omnibus.'
The remarks by Jordan and Roy came after the Wall Street Journal editorial board wrote Sunday that defense spending will now be a 'Republican target' in the 118th Congress after McCarthy's deal with the House Freedom Caucus.
Rep. Tony Gonzalez, R-Texas, also said over the weekend that he is worried defense spending will get slashed due to GOP proposals to cap spending at FY22 levels.
'This has a proposed billions of dollar cut to defense, which I think is a horrible idea,' Gonzalez told CBS's 'Face the Nation' on Sunday.
Republican Whip Rep. Tom Emmer, R-Minn., said Monday on 'Fox & Friends' that Gonzalez is 'not willing' to vote for the rules package yet due to his concerns. He also confirmed that Rep. Nancy Mace, R-S.C., is 'on the fence.'
McCarthy's agreement to cut spending back to 2022 levels is not in the rules package and exists as a separate concession he made to Republicans en route to becoming House speaker. Emmer predicted that the GOP members will eventually 'come around' on the rules package when 'they realize the things that they want to talk about are in this separate agreement.'
'And specifically, my understanding is Tony [Gonzalez] wants to talk about a provision that says we're going to start with the FY 22 budget as the baseline,' Emmer said. 'This is a concern because you got in the spending approach – you've got the discretionary spending that involves both this out of control domestic spending since before the pandemic under Nancy Pelosi and you've got defense spending.'
'And the argument is this would affect defense spending, which I'm here to tell you guys, Republicans will not impact defense spending,' continued Emmer. 'Aside from the efficiencies and waste, it's the domestic spending that we're going to go after.'
The House's first action Monday under McCarthy will be to vote on the rules package, which will require the support of 218 lawmakers to pass.
Fox News' Ronn Blizter contributed to this report.
This post appeared first on FOX NEWS