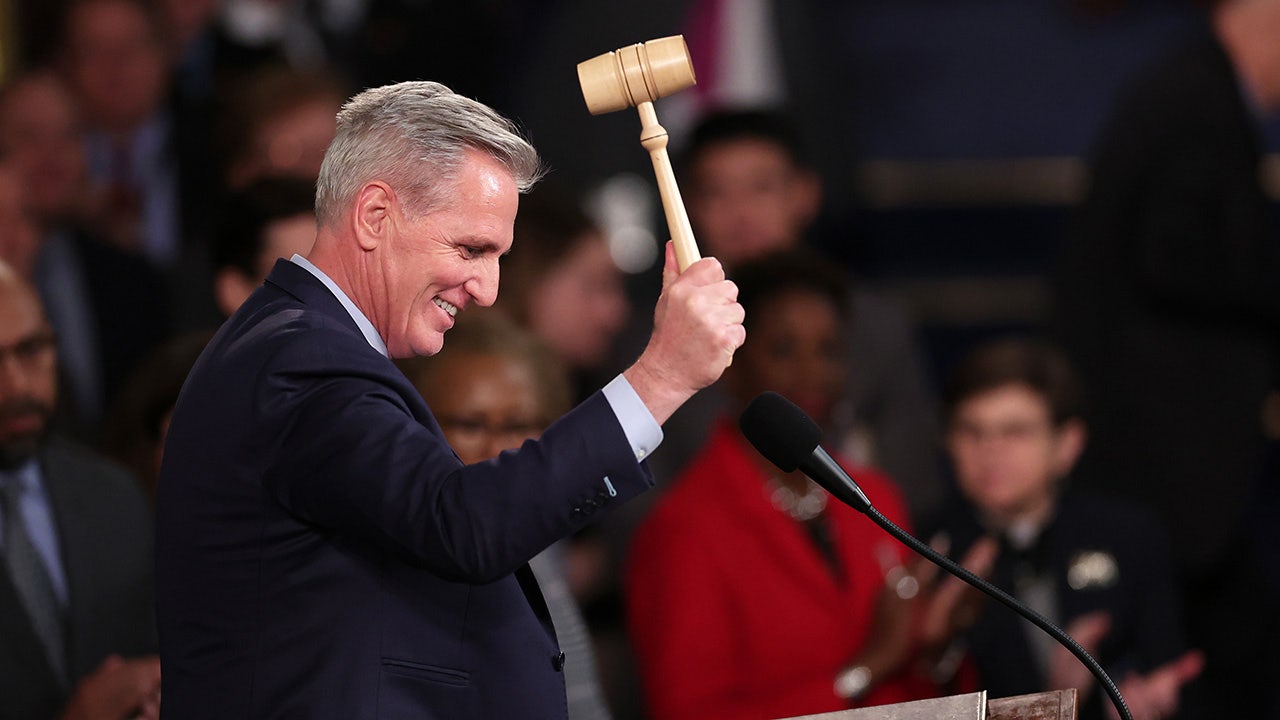 Congressional Democrats say their GOP counterparts will pay a price at the polls in the 2024 elections due to last week's very visible intra-party battle among House Republicans to elect Rep. Kevin McCarthy as the chamber's speaker.
McCarthy, R-Calif., was finally elected House speaker on an historic 15th ballot early Saturday morning after four days of voting in the longest speaker's election since before the Civil War. He had to overcome the opposition of a small but powerful band of far-right, anti-establishment Republicans opposed to his speakership. 
Democrats see lasting damage from last week's spectacle, arguing it will hurt Republicans in the 2024 elections as the GOP tries to hold its razor-thin majority in the House, retake the majority in the Senate, and win back the White House.
Pointing to what it calls 'days of dysfunction,' the re-election arm of House Democrats claimed on Monday that 'vulnerable Republicans threw their entire support behind Kevin McCarthy, even after he conceded power to far-right extremists.'
Targeting 18 Republican House members who may face difficult re-elections in 2024, Democratic Congressional Campaign Committee (DCCC) spokesperson Tommy Garcia argued that 'voters will not forget, and Republicans will pay the price at the ballot box' in two years.
Congressional Democrats also argue that the GOP battle over the speakership was just a taste of things to come over the next two years as Republicans cling to a razor-thin majority in the chamber.
It's not just Democrats.
Republican Gov. Kristi Noem of South Dakota, who spent eight years in the House before winning election as her state's governor in 2018, told Fox News last week as the voting continued that the GOP speaker meltdown 'sure doesn't help' when it comes to the GOP's 2024 game plan.
The conservative governor spotlighted that 'it's difficult work governing and Republicans have to prove right now that they can govern… electing someone to be speaker of the House is the first step.'
Rep. Richard Hudson of North Carolina, the new chair of the National Republican Congressional Committee, the DCCC's GOP counterpart, told Fox News on Monday that 'voters expect House Republicans to address cost of living, the open border, and out-of-control spending.'
'Through the process of electing Speaker McCarthy, we have unified and will deliver for the American people,' Hudson predicted.
Doug Heye, a veteran GOP communicator who has worked in the House, Senate and at the Republican National Committee, doesn't see last week's melee having a lasting impact on the minds of voters.
'It will be very difficult for Democrats to connect that it took four days to vote for a speaker – to 2024 – unless Republicans ultimately reinforce that by not being able to pass legislation, a shutdown, debt limit default. But if they're able to run the House normally regardless of this bill or that bill, then there's no linkage to last week,' Heye told Fox News.
Longtime Republican strategist Colin Reed noted that the four days of divisiveness among House Republicans 'certainly wasn't helpful for those tuning in.' But he emphasized that 'voters' memories are notoriously short and the spectacle that played out last week was more a Beltway process story than anything else.'
He added that, going forward, House Republicans need to 'give the field of Republican presidential nominees clay that they can mold as opposed to just constant chaos that they have to defend.'
Brian Walsh, a National Republican Senatorial Committee veteran and a former top adviser to Sen. John Cornyn of Texas, also said 'it's far too early to tell' if there will be a lasting negative influence from last week's intra-party friction. And he added that his party can learn from the episode.
'A lesson for every member of Congress is that government shutdowns don't work and that they've always backfired on the party that's been as seen as more responsible for those shutdowns,' Walsh highlighted. 'Republicans should try to advance the most conservative policies that will be agreed to by congressional Democrats and the president.'
This post appeared first on FOX NEWS